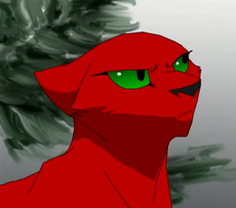 Scarletpelt is a slender, dark ginger she-cat with black forepaws and green eyes.
Episode 1:
Edit
Coming soon
Chestnutfall was in love with Scarletpelt, but she loves Dimstar.
Her father, an unamed tom and the deputy of shadow clan, was killed in episode four.
Scarletpelt is voiced by Blazethefiredragon
Character Pixels
Edit
Coming Soon
Unnamed She-cat
Unnamed Tom [Deputy]
Disklikes:
Chestnutfall
Aunt:
Brightstar
"You've got it all wrong! I'd die to protect Dimlight and you're the one seeing it the wrong way! All along, you had me think you were such a kind cat, saving fresh-kill for me, inviting me to patrol or hunt, but you were always a selfish lunatic!"
-Scarletpelt to Chestnutfall, Episode 12 {05.08}
Chesnutpaw:Also...What do you think of the new apprentice?
Scarletpaw:You mean Dimpaw?
Chesnutpaw:More like DimWit.
Scarletpaw:I think he is innocent and fun to talk to.
Chesnutpaw:You think that?Ohnestly?!
Scarletpaw:Yes.I think he needs a second chance.
Chesnutpaw:Second chance!?He didn't have one chance in the first place!
-Scarletpaw and Chesnut paw about Dimpaw, Episode 2