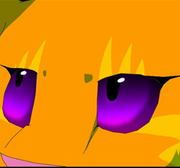 Sunstorm
is a fluffy, dark golden she-cat with lighter marks on her face, deep violet eyes, and a bright pink nose.
Episode Twelve:
Edit
Scarletpelt and Dimstar run into her while hunting.
Urnam7 stated that she is the kit of Dimstar and Scarletpelt, but was adopted; Scarletpelt did not give birth to her.